Free over 80 € for Italy. For the purchase of 6 bottles of the same wine 5% discount
 
Sankt Anna 2018 Tenuta In der Eben

Title: Igt Dolomites
Grape variety: Slave 100%
Region: South Tyrol
Format:0.75 l
Alcohol content:12%

Ruby red in colour, on the nose intense hints of red fruits, earthy notes and spices. On the palate it is enveloping, elegant, velvety and smooth. Persistent

Aged for 24 months in wooden barrels. Further 6 months in bottle. Unfiltered


First and second courses inspired by the land.


The winery IN DER EBEN takes its name from the old farm from 1300, we are at the entrance of the Valle Isarco in the municipality of Cardano. Today, Urban Plattner, who has been running the winery since 2010, carries on the family tradition. Over the years, the farm has been transformed into an organic and biodynamic farm with particular attention to pruning and plant yield. Half of the approximately 3.5 hectares of vineyards are planted to Schiava with vines aged between 40 and 50 years. The rest are Sauvignon and Gewurztraminer and the surprising Malvasia Rossa. These wines are far removed from schemes and conventions, but are very personal and have the identity of the territory. They need time to express themselves fully but will give great satisfaction and will remain impressed in the mind.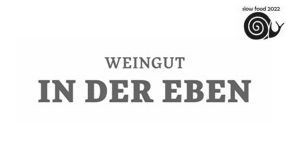 Data sheet
Awards and Honors

Chiocciola Slow food 2022 alla cantina
Top Wines Slow Food

Naming

Vineyards Dolomiti Igt

Grape variety

Slave 100%

Area

Alto Adige Bolzano

Gr. Alcoholic

12%

Format

0.750 l
Please login to write your review.
2 other products in the same category